Back in July I was on a hat-knitting-high and decided that not only would I knit a holiday present for all of my closest family, but for another five people in my extended family. And a sweater for my grandmother. At the time I was learning a lot from each hat project, and was very happy with the fast progress through the gift list.
No, I don't actually wear hipster glasses.
These projects using just one or two balls of yarn were so satisfying, letting me use some yarns I'd been dying to try (Noro, Madelinetosh, Malabrigo Rasta) in very small, affordable amounts. I also got to practice new techniques, cast-ons and offs (Rose Red, 16 Cable Hat, R2D2, Struan) and learn some stitches that would have been too tedious for me in a large-scale project, but were fun mini-sized (Laurel, Armando).
It's not even November and I have all but two of my presents finished and even had a little time to work on a few other things (Muira, and some birthday surprises).
But.
You guessed it: I am so sick of knitting hats.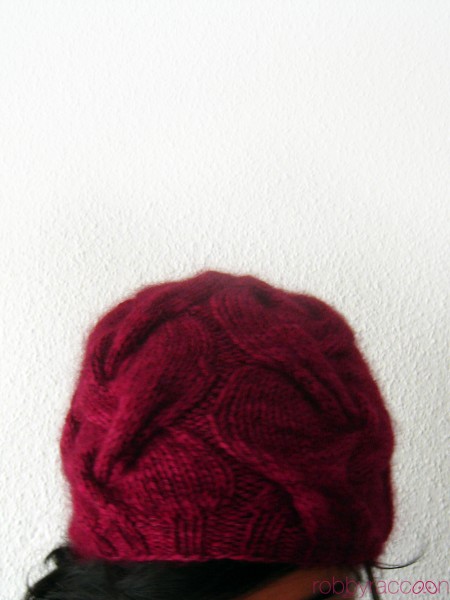 My little stash of yarn has been steadily growing, although pretty much all of it is designated to a pattern on my also-quite-substantial want-to-knit list, and there are so many other things I want to get on to. Things that are not for keeping your head warm, but are designated to other important areas like hands, necks, arms, and feet.
Fearing that a baaad case of startitis would incubate if care wasn't taken, I am setting these two unfinished projects aside to work on when I am on the go and don't want to be idle. They are both in progress between the band and crown and should be relatively mindless for a while. In the meantime, the Acorns sweater has been cast on for my grandmother, and mermaid gloves for me. The tickle in the back of my throat that threatened to be an outbreak of casting-on has gone. These new projects are fun, and that's the point right?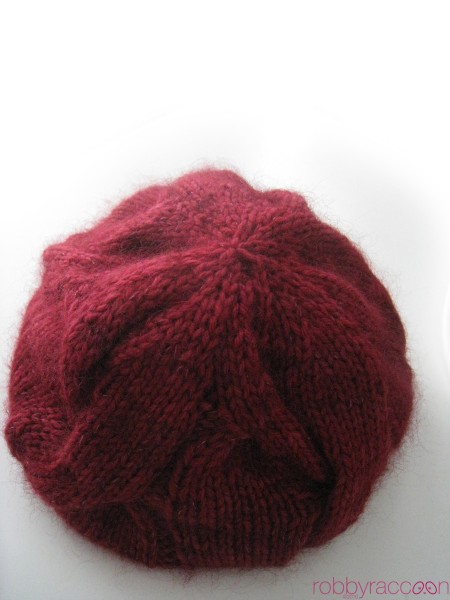 The images in this post are of another 16 cable hat. The original was neither in the color nor the size appropriate for the giftee and has become mine (especially sentimental since it's the project I was working on when this blog went live). After realizing that the size would not be as altered even with the most violent blocking (the giftee assured me repeatedly that her head is even more over-sized than mine), I dyed up some Valley Yarns Northampton and Rowan Kidsilk Haze. The original complementary color was too dark, but this second try was perfect.  I hope she likes it.